---
SingleParentMeet Overview
SingleParentMeet.com is the primary dating site which serves single parent dating community. It was owned by People Media group, a network that manages about 20 online dating platforms in different segments. SingleParentMeet is still going strong since 2002. Most single parents understand that meeting someone great while taking care of a child is not easy. As a single parent, it is hard to find someone that will love you and your kids. It is time-consuming, so SingleParentMeet makes it easier for single parents to search for their best companion and parental figure through a safe online dating site.
The team of SingleParentMeet.comunderstands that dating as a single parent is really hard. It took time, scheduling and expected need in incorporating the children in the relationship since not all are open for dating single parents. The members of the site all over the world share one goal. They all want to meet other single parents for friendship, love,and dating. If you are looking for companionship, friendship or finding the best mother or father for your child, SingleParentMeet.com is the perfect partner that you can have. To convince you that it is easy, try SingleParentMeet.com now for free!
Keep reading our honest SingleParentMeet review to learn more.
back to menu ↑
SingleParentMeet Sign-up Process
Single Parent Meet offers a very easy sign-up process. You can create your profile for free. You need to answer short questions about you and your children. You can be more comfortable because you can fill personal details as much or as few as you want. To begin, you need to set your dating preference, picture, location and blurb for your account. Users can't view your profile until you put a profile photo. You are not also required to include information about your children. Instead, you can opt toanswer broad, open-ended sections which include "A little about me," "I'd just like to add" and "About the one I'm looking for."The more details you add, the more exact the automatic matches will be.
back to menu ↑
SingleParentMeet Features
Since the People Media group manages the website, it simply goes that SingleParentMeet.com is very easy to use. Signing in with Single Parent Meet, members can meeton the homepage that contains everything any member wants to do on the website. Moreover, the sidebar on the left of the page lets members know how many messages they can receive, who viewed them, who's flirting with them and who liked their pictures. Another subheadwill enable members to view their possible matches within a day. From it, the members can look for profiles and view who they've flirted with, who they've favorited and viewed.
On the other hand, the right side of the page shows online profiles of singles in the place, wherein you can flirt or chat with the profile that catches your attention. Single Parent Meet doesn't offer much different from other websites. Thus you can also live chat, flirt and send messages.
Search
SingleParentMeet search offers you two approaches. You can depend on the automatically recommended matches and take a sign from there. Its "I'm Interested "feature will offer you profiles and ask you if whether you are interested or not.
On the other hand, "Instant Match" feature will take the information that you added and use it to recommend five possible matches in a day. If you want to search for yourself, you can use the advanced or basic search function. Basic search provides you selections depending on the broad categories of location and age.
Meanwhile, the advanced search is more specific which enables you to search someone based on their physical attributes, ethnicity, star sign,and religion. In other words, there is a wide variety of scope to search for!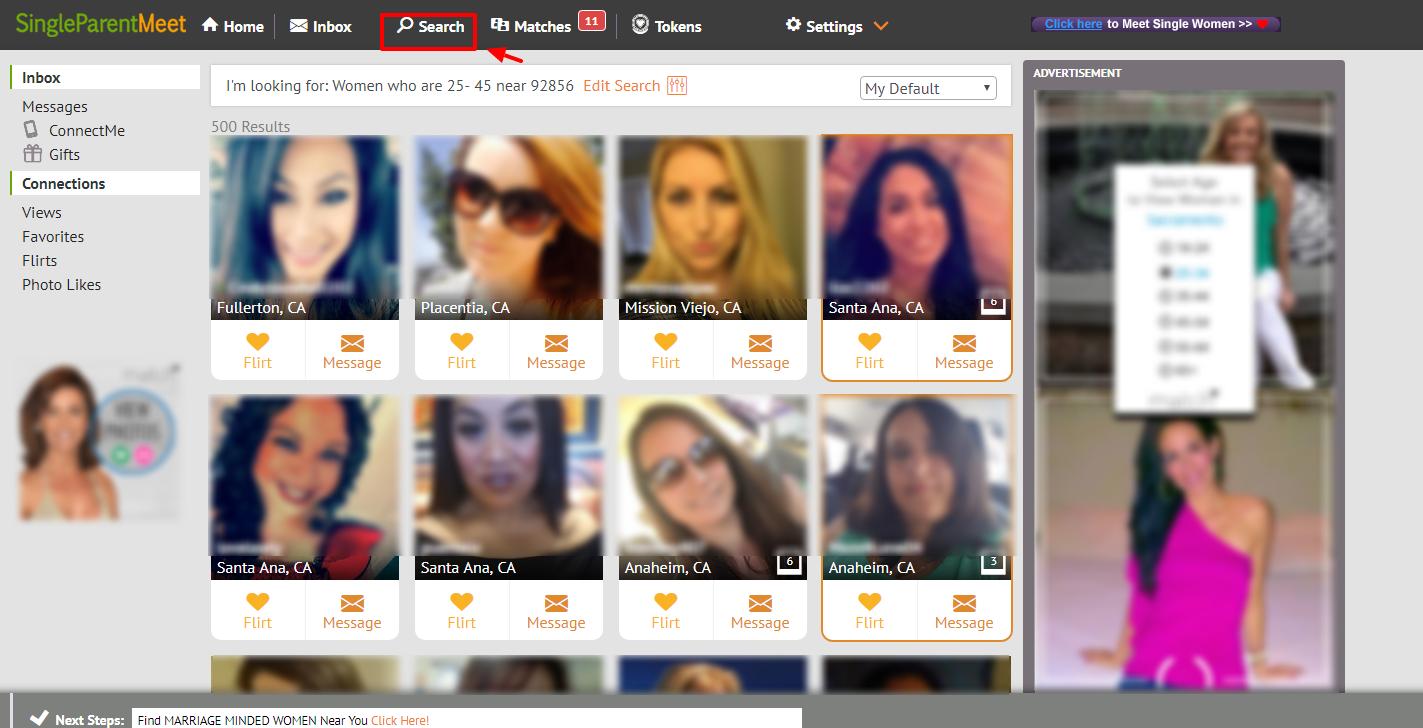 Communication
SingleParentMeet.com provides different ways of communicating to your possible matches. You can opt for "I'm Interested" section and choose if you are interested or not in a particular profile. It will give the member a flirt to let them know that you are interested. Members will know if someone liked their photo, so you are free to like photos of any member.
If someone gets your attention, you can add them to your favorites, so that you can talk with them later. If you add them, they will know that they belong to your favorites. Well, if you desire a more serious conversation, you can email or IM your matches as you sign up for a paid subscription.
Another amazing feature of SingleParentMeet.com is that you can send the profile and photo of the member to your friend even if they're not a member. If you see a perfect match for your friend, you must let them know!
back to menu ↑
SingleParentMeet Mobile App
The SingleParentMeet has a user-friendly that enables mobile flirting and searching. They developed an awesome mobile dating app for iPhone and Android that allows single parents interact via mobile phone or tablet. The app has an innovative design for Android and iPhone for easy navigation of its dating app features. It offers the Android and iOS user with great design to meet single parents through your mobile phone and tablet in an easy way. We are surprised about the speed of the app functions on Android and iPhone devices. Truly, single moms and dads are the true winners with the use of this dating application. There is a huge amount of single parents that want to date with other single parents.
back to menu ↑
SingleParentMeet Safety and Security
You can be worry-free on using SingleParentMeet.com. You can make sure that even though you put yourself online, you can still protect your child. You don't need to worry since SingleParentMeet.com values your security and privacy while using the site. There is a pledge that you will not share your information with third parties.
SingleParentMeet.com has safety measures. You can report your concerns to their support team and block any member. Additionally, you can set your IM status to offline if you don't want to be contacted via IM. They also have details about fraud awareness and long-distance meetings.
back to menu ↑
SingleParentMeet Plans & Pricing
You can sign up for free. If you want to try the site, you can make your profile and browse the members. But if you want to connect with other members, you can pay a membership fee to use communication tools. They understand that it is costly to take care of your child, so they offer a cheap plan for your online dating. You can also cancel your subscription anytime.
| Options | Total Cost | Cost Per Month | Savings |
| --- | --- | --- | --- |
| Free Basic Membership | Free (Limited) | Free (Limited) | |
| 1 Month Membership | $16.99 | $16.99 | 0% |
| 3 Month Membership | $39.06 | $13.02 | 15% |
| 6 Month Membership | $45.84 | $7.64 | 55% |
back to menu ↑
SingleParentMeet Customer Support
The People Media network has known for its greater customer service,and SingleParentMeet.com is no different. It is an online site that is very easy to use. However, if you need help, they have an excellent FAQ section. You can contact their support staff through email on a 24/7 basis.
back to menu ↑
SingleParentMeet Pros and cons
---
PROS:
Reasonable price
Good mobile app
Various users of all orientations, incomes, education, ethnicities,and
Free membership and search for potential matches in your place
Various ways to interact
Open-ended profile configuration
Low cost for a monthly subscription which automatically renews
Has over 25+ languages in the world
Helps parents in finding babysitter via apartner website
CONS:
Free trial does not allow to read and send messages who's flirted, liked or favorited their profile
Crowded homepage having redundant options
No phone number for customer service
Membership is automatically renewed, but you can cancel it at any time
---
back to menu ↑
The Bottom Line
SingleParentMeet.com offers a complete package of service for single parents out there. You can meet potential matches that will love you and your kids. It has a very good design that is very easy to use. If you want to find your love partner, SingleParentMeet is the best for you!
SingleParentMeet Review
SingleParentMeet.com offers a complete package of service for single parents out there. You can meet potential matches that will love you and your kids. It has a very good design that is very easy to use. If you want to find your love partner, SingleParentMeet is the best for you!
Compare SingleParentMeet with other Online Dating Sites
If you like SingleParentMeet but aren't sure whether it's the best ideal choice for you, and may want to compare SingleParentMeet with other online dating sites. You can take a look at our online dating sites comparisons below to discover if one of their competitors is more suitable for you.
Updated : 09.20.2023.