---
Bumble Overview
Developed by Whitney Wolfe in 2014, Bumble is one of the continuously becoming popular online dating apps today. Bumble works like Tinder; this is expected because a former employee of Tinder creates it. But the difference is that, in Bumble, girls are in control. The moment matches are made, ladies get to message the gentlemen first, after that, men will respond if they are interested.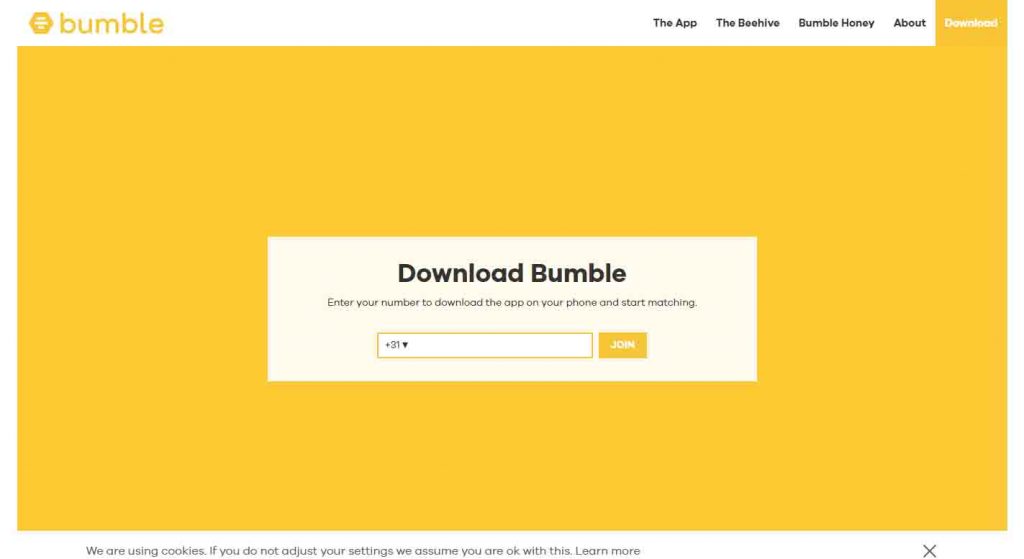 As an online dating app which puts girls in control, it is a surprise that the men to women ratio on this app are even. When you compare the number of engagements and weddings due to this dating app to the number of users it has at present, the possibility of finding a partner is hard. This dating app target men and women looking for hookups or dates.
What makes this dating app apart from the rest is that female member are the one to make the first move. According to the founder and CEO, this is an effort to flip old dating dynamic and foster a tradition of equality and respect. If two people show interest in each other by means of swiping right, the girl has twenty-four hours to message the man she matched with. If a conversation is not initiated, the match will expire, though guys do have the choice to extend the 24-hour window if they are really interested in a user. With same-sex matches, either person can start the chat.
Keep reading our honest Bumble review to learn more.
back to menu ↑
Bumble Sign-up Process
Joining this dating app is easy and fast, most especially is have a Facebook account. You do not even need to give any personal information, as Bumble will do all the jobs. This dating will automatically take all of your Facebook information and bring into the app.
Before you are not able to register if you do not have a Facebook account and lots of potential members complained regarding this matter. Since then, Bumble has changed their rules, and today you can join this app using your contact information only.
A few months ago, this dating app added Instagram functionality. Like Tinder, you can link your Instagram account to your profile so other members can see your pictures. Available for Android and iOS, the feature is quite easy to activate.
back to menu ↑
Bumble Features
Bumble aims to encourage equality in social media. This is designed for men and women. As of June 2015, Bumble has more than 5 million women have started conversations. According to Wolfe, about 60% of matches end up in conversation. When female members start the conversation, usually, the man replies. This dating app is renowned for their high response rates. Ladies can manage the presence of their profiles in various ways. This app aims to lessen online harassment, and this site attracts many decent men. They also aim to empower ladies and provide them the chance to be in control of whether or not the relationships persist.
If by mistake you swipe left on a profile you suppose swipe right on, and you can undo this action by shaking your phone.
Bumble works like Tinder wherein members are provided a database full of amazing profiles based on search criteria. If you find the member attractive, swipe right and if not just swipe left to reveal other users. Users profile are largely visual based and consist of a picture and age. If someone looks inviting, click the picture, and you will see additional pictures and other basic information such as college, occupation and many others.
If both members swipe right, they will get a match. Women have 24 hours to start the conversation with the possible matches and men also have 24 hours to reply.  Bumble has a remarkable interface where members can sort discussions to show which are unread, recent and member nearby. Communications are color coded as well- so basically an extremely female-friendly app.
Like other free dating apps out there, Bumble also has lots of paid features to help increase the chance of finding a possible partner. The Bumble Boost is a premium feature that provides members with three extra benefits.
Another essential feature is the Beeline that shows members who liked you, so you do not need to swipe and waste time waiting for a possible match.  The Rematch feature allows members with expired connections to a rematch. The Busy Bee allows members to extend the 24-hour window, so they have more time to keep in touch with men. This was available in the past for men only, but today is also available to female members. There is also a BFF feature for those who are looking for a friend.
You can buy Bumble Coins to purchase SuperSwipes. The same as Tinder's SuperLikes, this allows your crush know you are serious on wanting to make a connection with him not only a casual date or hookup. There is a brand new feature called BumbleVid that allows users to make a story with unlimited ten second videos that are deleted after 24 hours.
back to menu ↑
Bumble Mobile App
This dating app is just available via a smartphone app. There's no desktop version. It is easy to remove your account in case you decided to stop using the app. Because Bumble stresses a friendly dating environment, reporting inappropriate behavior is easy as well. Bumble, in general, is a great free option for women who are new to the world of online dating.
back to menu ↑
Bumble Safety and Security
Because ladies are the one to execute the first move, Bumble provides an additional level of security by means of filtering all those creepy chat-up linesmen.  This dating app has super low abuse report rate Similar to other dating apps; Bumble cautions opposed to posting sensitive information regarding yourself on your profile and make sure no confidential information appears on your pictures like address, and phone number.
back to menu ↑
Bumble Plans & Pricing
Even if this is a free online dating app, members can spend a considerable amount of money for special benefits that can give them further visibility as well as popularity on this platform.
| Options | Total Cost | Cost Per Month | Savings |
| --- | --- | --- | --- |
| Free Basic Membership | Free (limited) | Free (limited) | |
| 1 Month Membership | n/a | n/a | 0% |
| 3 Month Membership | n/a | n/a | 25% |
| 12 Month Membership | n/a | n/a | 70% |
back to menu ↑
Bumble Customer Support
If you want to know more about this dating app or if you have concerns, questions, and complaints you can contact customer hotline number or send an email.
back to menu ↑
Bumble Pros and cons
---
PROS:
Women start communication, meaning men spend time talking to members who have shown interest as well as moved forward to initiate the discussion.
Twenty-four hour time limited chat encourages ladies to be active on this app and make the entire process of swiping to chatting easier and stress-free.
BFF mode allows users who utilize the website to make friendships, casual connections, and many others.
CONS:
Bumble profiles are visually focused; they do not let you showcase your personality
Guys should swipe and wait without control over the result of the dating experience
Facebook account is needed to log in
Membership is automatically renewed, but you can cancel it at any time
---
back to menu ↑
The Bottom Line
Bumble is a renowned feminist dating app which is geared toward promoting equality in online dating. This dating app has more than one billion swipes in the entire platform since its start. It encourages ladies to break the conventional gender role via acting as the initiator.  Bumble is ideal for ladies who are tired of getting unsolicited messages, sweet pickup lines, as well as unwanted pictures from men. This has nice features like the VIBee help members feel more certain and relaxed about talking to new people.
A lot of men are frustrated that ladies don't always start a conversation in the twenty-four hour time, leading to a lost connection. The time limit adds so much pressure to women and could make the process rushed and inorganic.
Though this app started as a dating application, it has evolved after a couple of years and encompassed relationships of all sorts. The company is looking forward to becoming a place where singles meet their significant others, their best friends as well as their important business partners. This site is happy to announce the Bumble BFF feature to connect members with new friends in their city.
Bumble Review
Bumble is a renowned feminist dating app which is geared toward promoting equality in online dating. This dating app has more than one billion swipes in the entire platform since its start.
Compare Bumble with other Online Dating Sites
If you like Bumble but aren't sure whether it's the best ideal choice for you, and may want to compare Bumble with other online dating sites. You can take a look at our online dating sites comparisons below to discover if one of their competitors is more suitable for you.
Updated : 12.01.2023.