---
BeNaughty Overview
BeNaughty.com is a chat and flirt site that started in 2005. The name speaks for itself and the site already has more than fourteen million members. This site is not for the serious dater, but is aimed at casual, fun loving people, who are just looking for a temporary connection. Members on BeNaughty.com are not looking for serious dating relationships, but just join the site for some light flirting, easy dating, and possible connections.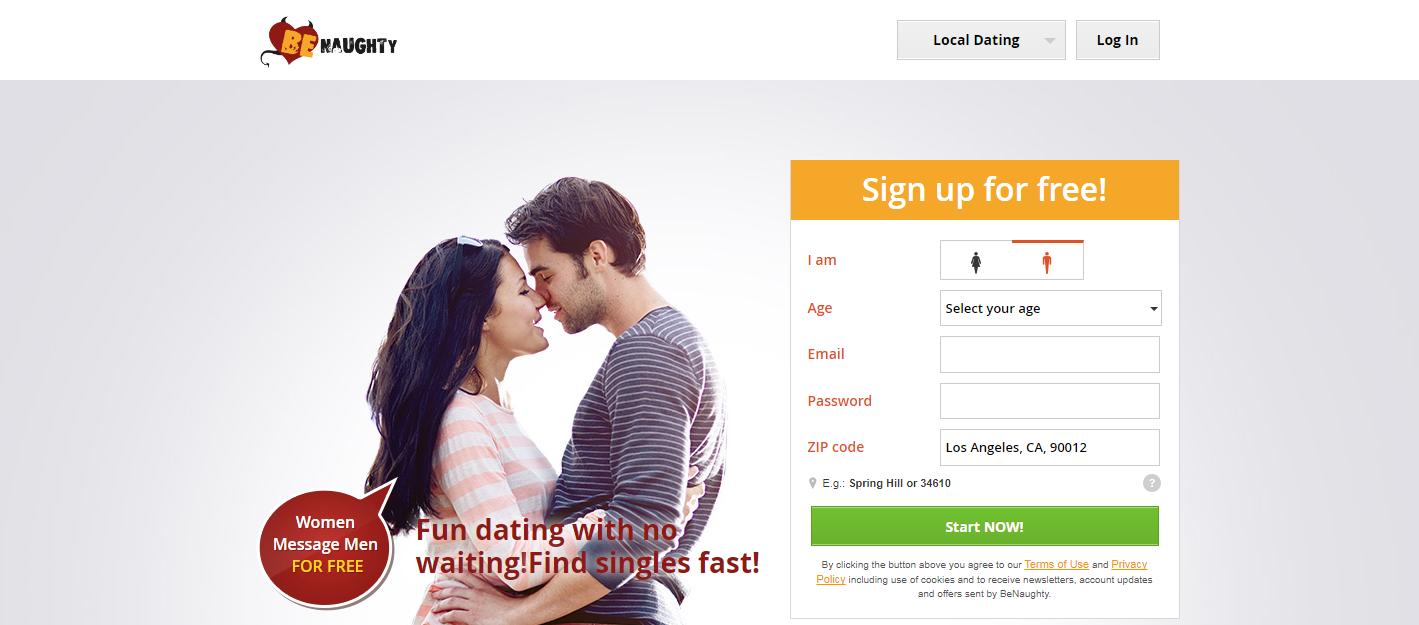 Of course, some do look for a more serious relationship, but the general approach is for relaxed singles. Most of the members are from a younger crowd, usually between 25 and 34 years. The site also has a very big database, with gays, couples, and heterosexuals looking for a relaxed dating experience online. Sixty percent of BeNaughty.com members are men, which is unusual, and the women are allowed to send the men free messages on this site. This is positive for both men and women, as it improves of chances of attracting more women to the site. BeNaughty.com is popular and its membership is growing daily. If you are looking for fun, like-minded members, then this site is the right place for you to be.
Keep reading our honest BeNaughty review to learn more.
back to menu ↑
BeNaughty Sign-up Process
Membership is free initially, and registration as a member is very simple. The Facebook app makes the process much quicker to sign up, and when you join, you will receive many messages very quickly from the other BeNaughty members. The female members can send free messages and receive these for free. Unlimited communication is only accessible to paying male members, and registering online with BeNaughty only takes a couple of minutes. No information is needed that will allow for personal identification, so users who enjoy their privacy and anonymity are protected. It is only the email address that needs to be verified, but is never available on your profile, and is always kept private. BeNaughty does encourage members to complete their profiles so that other members can find you more easily when they share likes. Uploading a profile image is definitely encouraged. BeNaughty regards their customers as liberally-minded adults, so they can post all kinds of profile images, even those which are totally nude. This level of freedom of expression is original and refreshing.
back to menu ↑
BeNaughty Features
BeNaughty is very user-friendly and easy to find your way around the site, and has loads of awesome features. The layout is exciting and simple to use, with easily visible icons. Menus at the top and the bottom of the site make navigation easy to move through the pages and to use all the features. The original and stylish site design offers members a wonderful experience when they search for profiles and connect with the other site members. It is good that this site is not covered with loads of explicit ads on the pages, and shows only one which blends in nicely with the entire site design.
Search
Looking for features and profiles is easy on this site as an updated list of members is kept on the homepage, who are busy chatting or available to chat. Searches can be done using location, age, gender, and zip codes, and the advanced search option allows for lifestyle searches, naughty photos, normal photos, sexual preferences, or relationship status. The search function on BeNaughty.com offers a customized search for partners using location, sex, or sexual orientation, plus other parameters. Ethnicity, marital status, eye color, income level, tattoos, body type, piercings, and smoking, education, religion, and drinking, are included in the search parameters.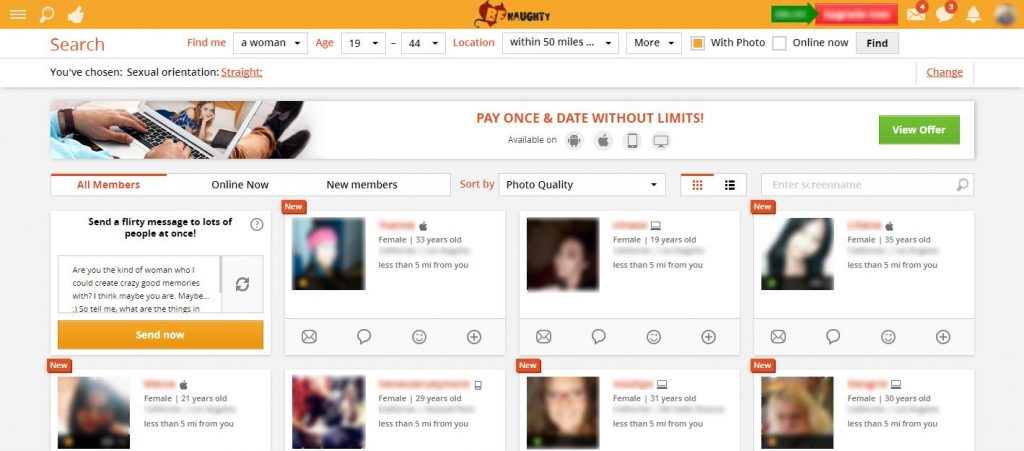 Communication
Getting in touch with someone you like and want to meet is also very convenient. Just send a flirty wink of a cheeky direct message. You can also use instant chat or chat over video, when you want to get to know someone better. There are several forums available on BeNaughty, plus chat rooms to join, and blogs online. Sexy photo contests and games all add to the casual, fun dating, offered by BeNaughty.com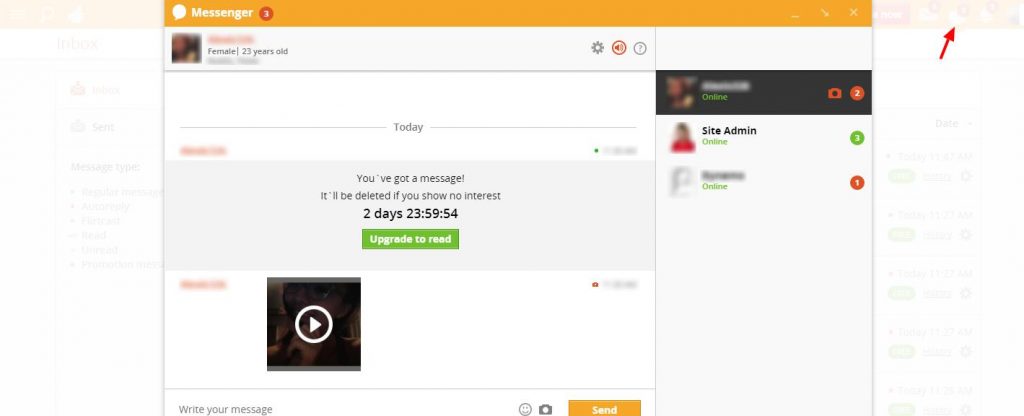 back to menu ↑
BeNaughty Mobile App
Android and iPhone apps are available for everyone who wants to start using their smartphones to register with BeNaughty.
back to menu ↑
BeNaughty Safety and Security
Looking for adult fun online is always a concern regarding safety. BeNaughty makes your security and safety their priority, which can be clearly seen in their policies and their security features. GeoTrust helps to secure the site which has an anti-fraud system which is also very progressive. Information is encrypted and the site generally has very strong security features, and you can feel safe as your personal details will never be shared by BeNaughty, with anyone. Illegal or rude behavior should immediately be reported, as those members will be banned from the site. Keeping casual dating safe is best for everyone's enjoyment.
back to menu ↑
BeNaughty Plans & Pricing
The gender ration is well-balanced on the site, because women get to use all the features, free of charge, but they have to confirm their identity before this can happen. Men are also allowed to register for free, and will then have access to some of the features on the site. Once you have registered free, you can upload your profile image and start searching for casual hookups. The free version won't allow sending free messages or to use instant chat function on the site. If you choose to pay for membership, then you are entitled to a 3-day trial period. Then, if you decide you don' like the services on the site, you can just cancel your membership in the time provided and your membership fee will be refunded.
| Options | Total Cost | Cost Per Month | Savings |
| --- | --- | --- | --- |
| Free Basic Membership | Free (limited) | Free (limited) | |
| 1 Month Membership | $39.00 | $39.00 | 0% |
| 3 Month Membership | $65.70 | $21.90 | 44% |
| 6 Month Membership | $106.20 | $17.70 | 55% |
back to menu ↑
BeNaughty Customer Support
BeNaughty.com staff offer customer support to members 24/7, and can answer all questions if members want to understand more about the site, and learn about the dating services that are available.
back to menu ↑
BeNaughty Pros and cons
---
PROS:
Three-day free trial period
All features are free for women
Mobile apps are available for the site
Many forums to connect with others
CONS:
Overwhelming choice of possible matches available
Free membership communication features are not included for men
Members do not have to upload their profile images
Membership is automatically renewed, but you can cancel it at any time
---
back to menu ↑
The Bottom Line
The BeNaughty site is lots of fun and is about connecting with other naughty members who are looking for a good time and to have fun online. You can register only to have forum discussions, enjoy the company in the chat rooms, have personal conversations, or just to play games.
BeNaughty Review
The BeNaughty site is lots of fun and is about connecting with other naughty members who are looking for a good time and to have fun online. You can register only to have forum discussions, enjoy the company in the chat rooms, have personal conversations, or just to play games.
Compare BeNaughty with other Online Dating Sites
If you like BeNaughty but aren't sure whether it's the best ideal choice for you, and may want to compare BeNaughty with other online dating sites. You can take a look at our online dating sites comparisons below to discover if one of their competitors is more suitable for you.
Updated : 09.20.2023.